If the agriculture industry could be described in one word, the most fitting word would be innovation. The ag industry is constantly discovering new ways to produce a safe and abundant food supply for an increasing population.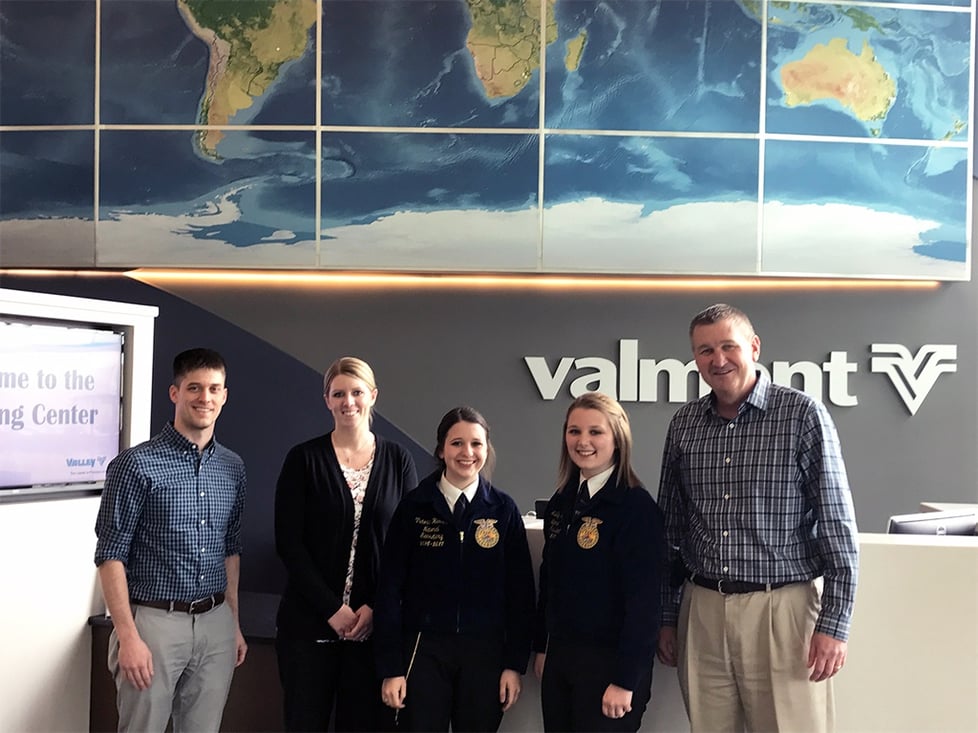 (From Left: Jake Hull, Ashley Anderson, Victoria Harris, Ashley Willits, and Rich Panowicz)
On our visit to Valley® Irrigation, a division of Valmont® Industries, Inc., we learned that innovation is a word that can be used to describe everything they do. From the center of the pivot all the way to the end gun, there was no lack of invention and discovery. We toured the production floor with Joe Plance, who explained to us the process from start to finish and shared with us the pride that Valley has in their "made in America" parts.
After our tour, we were able to discuss the importance of youth in agriculture with Jake Hull and Ashley Anderson, members of the marketing team, as well as the VP of North American Sales, Rich Panowicz. As an organization, the National FFA focuses on preparing students for premier leadership, personal growth and, ultimately, career success. Through the intracurricular nature of agriculture education, students are able to learn relevant and rigorous curriculum in the classroom, then apply what they have learned hands-on in supervised agricultural experiences (SAE) and develop leadership skills through FFA. Throughout our conversation, we were able to share the opportunities that FFA and agriculture education provide to students, and how Valley and Valmont can help us in fulfilling our strategic plan of engaging our students, supporting our advisors, and telling our story.
The future of agriculture wears blue corduroy jackets, and the National FFA is proud to be a talent pipeline for the agriculture industry. We look forward to a continued relationship with Valley Irrigation and Valmont Industries. Together, we can work to better prepare youth in agriculture to adapt an attitude of innovation that will allow them to be trend setters and leaders in the agriculture industry!
For more information on the FFA, visit ffa.org.